Linking up with Ashley today. Haven't done it in awhile.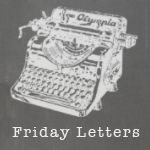 Dear Parents
, you left for a week in Hawaii this morning. I'm jealous. You better bring me some pineapple or I won't water your plants.
Dear wedding dress in my closet
, I was supposed to wear you tomorrow. Maybe I'll put you on tonight just to see if you fit. (post elaborating on that tomorrow, and it's a good one. Tune in, folks.)
Dear Triple A aka Alexandra
, seriously, I love you. And I don't even know you. That might be slightly creepy to people not in blog-land, but we get it. Thank you so much for your encouragment these past few days. What would I do without you?
Dear relationships
, sometimes...you suck. Tyler and I are on a "break." I don't even know what that means. Supposedly we are talking on Monday but I'm not getting my hopes up.
Dear Castleton Mall
, get ready for an invasion tomorrow. Brokenhearted Cate+payday=a much needed shopping spree. Hitting up F21 and H&M for some cheapies but goodies.
Dear job
, you should really give me a raise so that I can splurge even more this weekend.
Dear supervisor
, I'm kind of sad you're leaving. We were just getting used to each other and actually getting along...bummer.
Dear weekend
, this one is going to be rough...especially without Ty. Please be good to me.
CATE