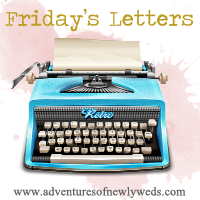 I'm linking up with
this girl
today for "Friday's Letters!
Dear Nutella commercial that is on one of the TV's at work right now, watching you makes my tummy rumble and wish I had a jar of Nutella with some strawberries right now. Or a Nutella Mug cake. Whichever.
Dear Boyfriend, I'm pretty sad we can't go camping this weekend...I'm going to convince you we should go to the fair, instead. I NEED deep fried Oreos. Like, yesterday.
Dear Tucker, I'm so excited to spend a whole weekend cuddled with you, my precious furchild. Stop growing though. 8 months and 80 lbs is a little redic.
Dear certain people at work that shall remain nameless, It is a good idea to ACTUALLY COMMUNICATE with those that work on things with you (aka me). I feel like an idiot when people ask me something and I don't know the answer because you haven't told me.
Dear
you
and
you,
Thank you so much for your kind words. I wasn't planning on talking about depression this close into the game, but I did. And I was so surprised that complete strangers were so incredibly loving and kind. Thank you :)
Dear Friday, It is only 9 in the morning and I already wish it was 5... This happens every single week...you haven't gotten the hint yet?